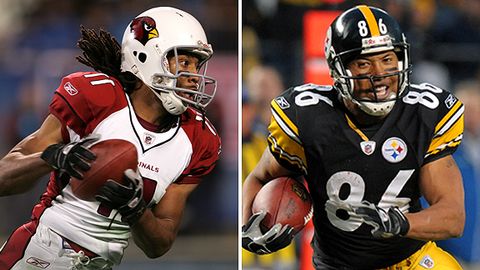 Super Bowl XLIII: Arizona Cardinals vs. Pittsburgh Steelers

Super Bowl Sunday
is just around the corner, but I have mixed feelings about it. On one hand, I am happy that football season is over because the bf had been obsessed-- neurotically obsessed --with checking his
ESPN
Fantasy Football
team every. second. of every. day. He would come home from work and with not much more than a "Hey, babe" make a beeline straight to the computer to analyze player stats and painstakingly select who will go in for that night's game and who would warm the bench. And then, I would have to watch the game. Ahhh! Now, I like sports alright, not a super big fan of football, but a girl can only take so much. Anyone with me? And of course it always just ends with him screaming at the TV because he put the wrong players in, his team isn't doing good, etc. etc. etc.
Anyway, the reason I have mixed feelings is because this exercise is machismo is not quite over yet. My bf also has a fantasy basketball team. (I enjoy basketball better than football-- Go
Lakers
!-- but still.) And when baseball starts up again, guess what? He will employ a fantasy baseball team too! The cycle never ends.
Still, I do like the Super Bowl if I have a party to go to. I mean, chips and dip? I'm in! So hopefully between now and Sunday I will make some exciting plans involving friends, food and a big screen TV that will, albeit temporarily, turn mean into a sports-fan.
Otherwise, there's always the
Puppy Bowl
. Jamie over at
Oh! How Lovely!
had a post today about this super-cute Animal Planet Super Bowl (with a kitty halftime show!). I had never heard of it but it sounds right up my alley. And the players are adoptable "free agents" from local shelters. How precious is that? You can check out the game's starting line-up
here
.
Maybe we should add one more player to the list?
Breed: Maltese-Shih Tzu mix
Don't let the sweetness fool you. This 8-pound pup is fierce!
So what are you doing for Super Bowl 43?
Do you love football? Cards or Steelers? Or, are you like me and just obligingly sit through the game with the only benefits being snacks and
halftime
?